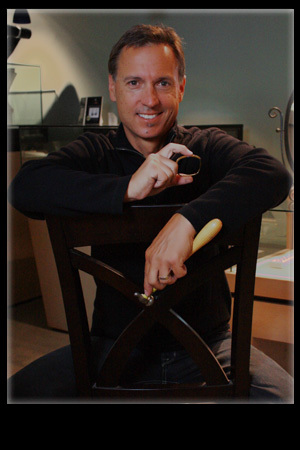 BACKGROUND
As far back as he can remember, growing up near the crashing waves of southern california, Lance Heck has always had two loves: being outdoors and creating things. Of course it may have had something to do with his parents; one was an aspiring artist, the other an avid outdoorsman.
What started as a hobby at age eight : rock collecting and gem cutting (he won the national junior lapidary title at age 11- the youngest ever to win), eventually turned into a passion and then a destiny. After graduating college with a degree in fine art, and later, gemology (from the G.I.A.), Lance apprenticed with the master craftsman James Grahl. For seven years, he immersed himself in the european method of hand fabrication, wax carving, and stone setting. Around the same time (at age 18) lance was juried into the prestigious 'Festival of Arts' in Laguna Beach, CA. "It was a surreal moment" said Lance after being admitted into a show he was in awe of, and frequented with his art-loving mother as a young child. Now today, after being an exhibitor for thirty continuous years, his respect for the show is as great now as ever. Along the way he has been a board member, vice president, juror (twice) and one of his pieces was even acquired by the festival for it's permanent collection.
Lance has also won or placed in many major jewelry design competitions including:
» AGTA Spectrum Awards (Ist place)
» Jewelers Choice Awards (2nd, 3rd place)
» Diamonds International Awards (London finalist)
» Diamonds Today (1st runner up)
INSPIRATIONS
It can come from many sources, from man-made objects like architecture, machinery, or even a freeway overpass, to almost anything found in nature. In fact, being in nature and the great outdoors is not only inspiring, for Lance it is truly spiritual. Whether it's camping with his family ,going for a hike, a mountain bike or surf/ski session, anytime he is in "natures' backyard" is time well spent.
ARTIST STATEMENT
"I strive for an asthetic that blends contemporary, clean design with an obsession for craftsmanship and detail that is 'old world' I hope that when you hold one of my pieces, you will see the quality, feel the inspiration, and above all, know that you are wearing art!"